Indo Aggressor
Komodo, Flores, Alor & more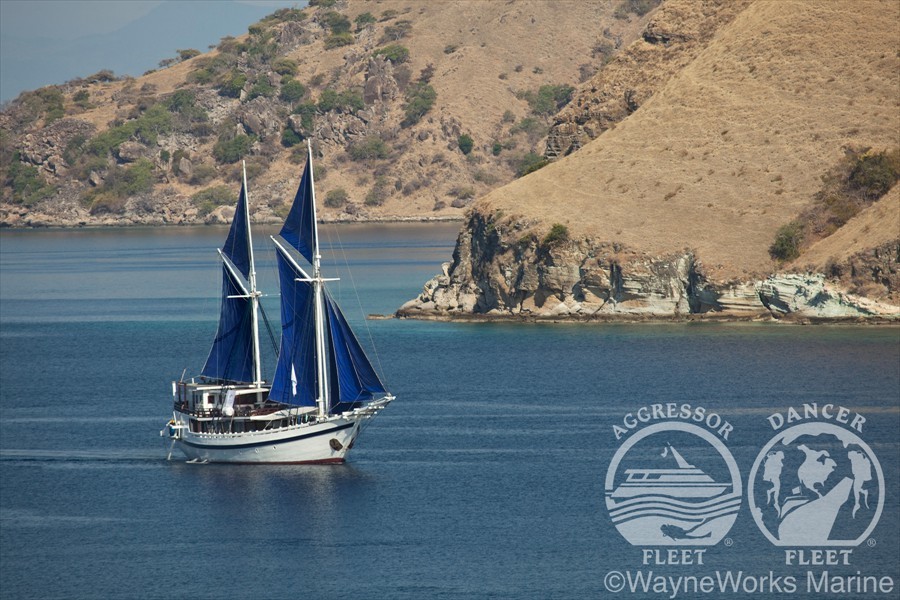 The Indo Aggressor (formerly Komodo Dancer) was designed and built with a dive liveaboard specifications in mind. It comes with tastefully appointed comfortable accommodations, delectable cuisine, professional Cruise Director, and much more to ensure that your vacation is an optimal mix of adventure and relaxation combined with the classic ambience of a vintage wooden sailing ship. As a member of the Aggressor Fleet the Indo Aggressor is at the front of liveaboard luxury and provides fully inclusive high quality dive trips to the Komodo National Park and Alor.
Guest Cabins
Deluxe Stateroom Situated at the lower deck bow, it is ideal for those who prefer a double bed setting. Amenities of the comfortable suite include hair dryer and bathrobe for your convenience. Heated showers, toiletries and towels can be found in the en-suite spacious private bathroom. Twin Stateroom A cozy twin bunk style bed, perfect for those who would like to relive the old style sea travel. This nicely appointed stateroom comes with crisp linens, bathrobes and hair dryer and heated showers. Towels and toiletries are a standard in the bathrooms.
Dining
Indo Aggressor puts priority to serve guests only the best but also the most wholesome meals. Though dinner is the highlight of all meals, breakfast is the most important. Pre breakfast meal will be served from 6.30 am before first dive, serving fresh cut fruits and cereals to go with either yogurt or milk and a selection of bread with imported jams. After the first dive, then you will be served an a la carte breakfast. Lunch is Indonesian buffet fare that is simple yet mouthwatering. It is rice accompanied by fresh vegetables, seafood and meat. Tea time snacks are a mix of delicately done cakes, pizzas and local all time favourite snacks like banana fritters. Dinner is simple yet delicious where you will enjoy a 3 course menu. For example, cream of pumpkin soup (with crispy tempe croutons & toasted pumpkin seeds) as the starter, chicken pot pie infused with lemon grass and kaffir lime leaves for the main course and tropical fruit salad served with coconut milk panna cotta to end on a sweet note.
Facilities & Services
Spacious air conditioned lounge
Spacious sun and semi-covered decks
Hot fresh water on-deck shower after dives
Two large speedboats with 2 x 40Hp outboard engines (max capacity of 10 pax/boat)
Television, Video, VCD, DVD and music centre in the lounge
Land excursions in "The Komodo National Park"
A small "boutique" for T-shirts, sarongs, postcards and other souvenirs
Library with dive and travel books
Dedicated camera set up desk
Charging station with 220V and 110V.