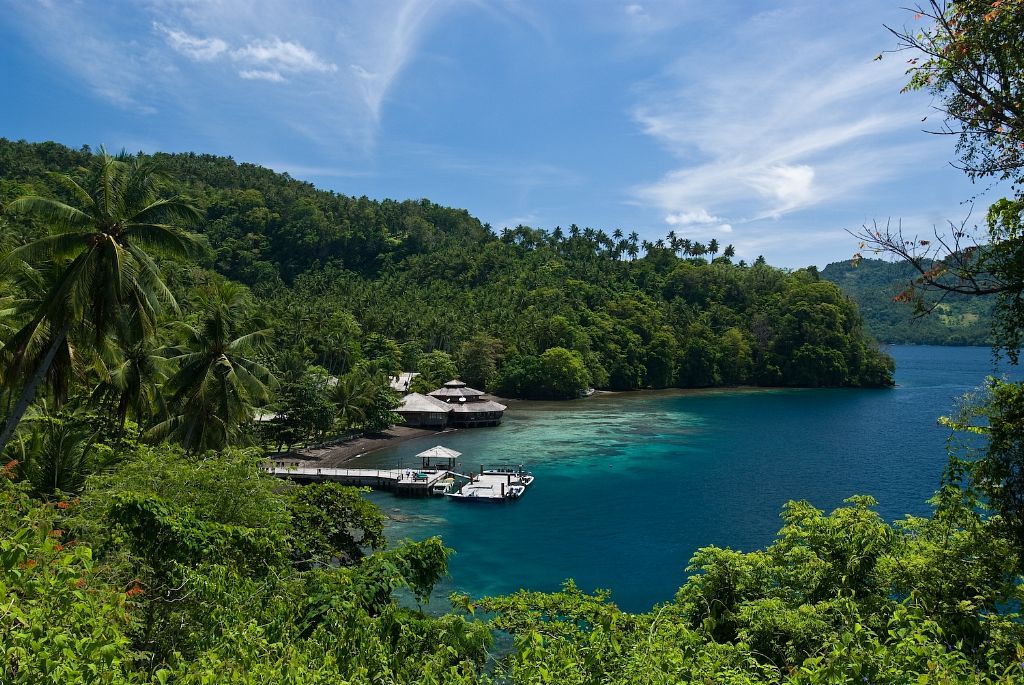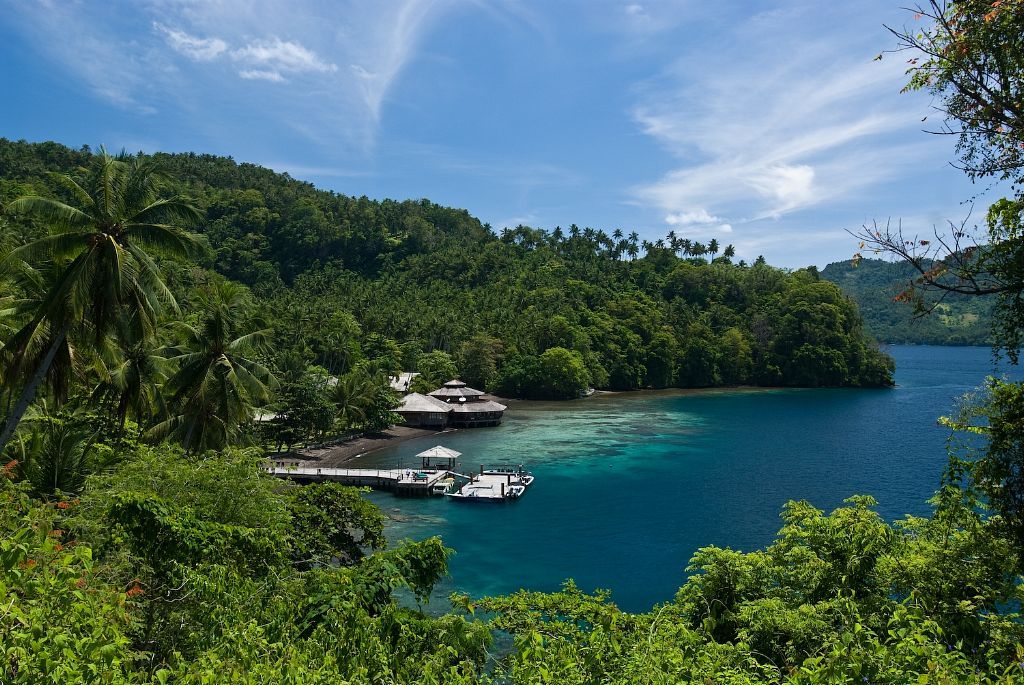 Kungkungan Bay Resort is a small, exclusive resort tucked against a coral-filled bay on the Lembeh Strait. We are just a few miles north of Bitung, on the eastern side of Sulawesi's northern peninsula, opposite Manado. The resort, built in a style that matches traditional Sulawesi architecture, has 1,200 feet of private beach and is surrounded by tropical rainforest. It is a relaxed place, and the reefs here are pristine and little-explored. Kungkungan Bay offers a pleasant alternative to the well-known and often-dived sites near Manado.
Accommodations: Kungkungan Bay Resort has eight deluxe, beachfront cottages and eight deluxe, beachfront traditional houses. All of the rooms are colorfully decorated with a local flare, situated steps from the black-sand beach, and offer excellent views of the strait and the island of Lembeh.
Restaurant: Our restaurant offers traditional Indonesian dishes as well as western style food. Built out over the water, it offers beautiful views of the surrounding islands and of the living reef below.
Diving: We cater to divers of all levels of experience and have pioneered numerous dive sites in the area, including:
MAGIC ROCK The vast array of life that populates this site makes it truly magical. A large upcropping of coral rises out of a sandy bottom and is home to a plethora of colorful critters.
MAWALI WRECK This Japanese freighter sank in 1943, and is now covered in beautiful soft corals.
BATU ANGUS This site is a maze of volcanic canyons and ridges that have been covered with a garden of plate corals.  The reef here is home to a wide variety of colorful fish and invertebrates.
KUNGKUNGAN BAY The healthy reefs of our own little bay offer a wide range of soft and hard corals, fish and colorful invertebrates.  The area is unusually rich in rare species, such as seahorses and octopus, and the reef begins right at your doorstep.
Other Activities: In addition to diving, we offer Highland Tours to nearby volcanoes, hot spring bath houses, or the photogenic rice paddies of Tondano.  The star attraction other than diving is the nearby Tangkoko- Batuangus-Dua Suadara Reserve.
Package Example
8D/7N Dive & Stay Package Beach Front Cottage Suite US$ 1,860 (per person, twin share).
Valid until 31 Dec. 2020
Includes: Accommodation, full board, up to 3 guided day-dives per day (TOTAL UP TO 18 DIVES), tax, service, transfers, unlimited house reef dives between 8am and 5pm on diving days, and free Wi Fi.