Maluku Divers Resort, Ambon (Moluccas)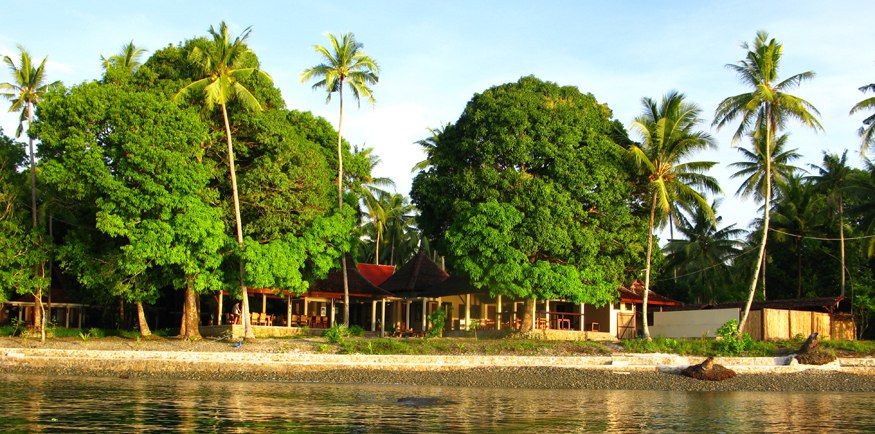 Maluku Divers Resort is a dedicated dive facility conveniently located on the shores of Ambon's best muck diving region "The Twilight Zone" in the village of Laha. A unique mix of traditional Maluku architectural designs and the desired comforts of a modern boutique resort, the bungalows are nestled amongst mature mango trees which offer both shade and a tranquil ambience.
Waterfront Bungalows
Maluku Divers Resort was specifically built with divers in mind and boasts the most unique and comfortable accommodations in the whole of the Maluku Islands (Moluccas).
All ten waterfront bungalows are uniquely situated in a mango plantation, which drop their fruits once a season. The thoughtful layout of the resort provides an uninterrupted view across Ambon Bay directly from each bungalow. Each has over 60 square meters, with private bathroom, hot water, air conditioning and a large covered private wooden terrace. The bungalows also have unique feature of individual camera work stations for each diver. Equipped with convenient charging stations with many sockets, the camera tables are especially handy for photographers who prefer to work in privacy rather than the large communal camera room.
Resort Facilities
The restaurant, bar, and kitchen are situated in a traditional roof beachfront complex, with an open air patio from where divers can enjoy meals and drinks beneath the stars. This dive area starts to highlight the resort's focus on photography, as it is also home to the large communal camera room and pre and post dive lounge area. Camera fiddling tables and wet camera tables lead down to a convenient and large guest dive equipment area, with freshwater dive showers and a number of large camera rinse tanks.
Dive Facilities
Three fiberglass speedboats: Two ten meter craft & one of eight meters
Highly skilled guides and spotters from across Indonesia
Full carry and rinse service of your diving equipment
Onboard drinking water & snacks
Dive towels
Two L&W compressors: an L&W 450 and an L&W 280 as a back up
NITROX is available
Equipment rental
Package Example
8D/7N Diving Package US$ 1,830 per person.
Includes: Accommodation in waterfront bungalow (twin sharing), full board set meals, 18 dives total (3 dives per day), tax and service.
Not included: US$ 30 roundtrip airport transfers per person is payable directly to the resort.
Maluku Divers Resort Ambon