Mimpi Resort Menjangan, Bali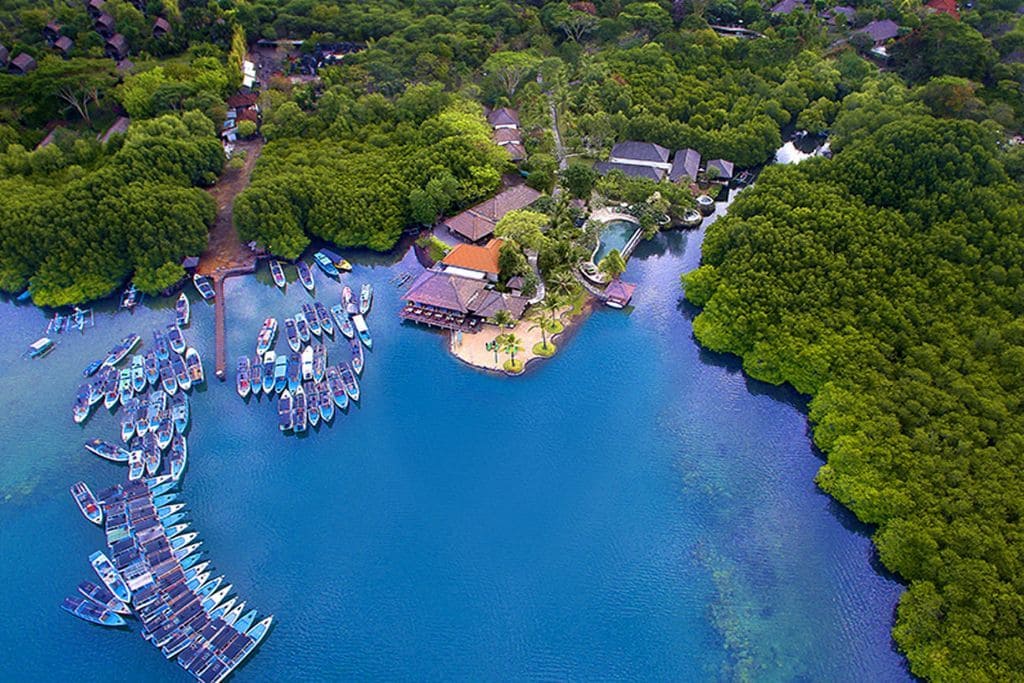 Perched above a sacred hot spring adjacent to Bali Barat National Park and the famous diving site of menjangan island, the resort is uniquely set to shore on a secluded bay of Banyuwedang. High-ceiling marble rooms, thatched-roof villas, pools, thermal spring, a floating restaurant, spa and yoga, dive center are linked through limestone pathways winding beneath tropical trees with stunning nature backdrop.
The Rooms
Thirty patio rooms are nestled amongst the lush greenery of a Balinese garden, with a small pond decorating the entrance to each room. The rooms feature a large veranda with comfortable lounge seating to relax and unwind. The bathroom allows you to stay in touch with nature by providing a uniquely Balinese outdoor shower with a small garden.
The rooms are maintained cool and airy, thanks to its marble floor, high ceiling and wooden furniture. Adjoining rooms are available for a family stay. A natural hot thermal spring pool is available in front of the compound for communal bathing.
Dining
The Sunset Beach restaurant sits by the shore, partially afloat and overlooking beautiful views of the water, mountains and mangrove forest. Enjoy a magnificent sunset from the restaurant while having an afternoon tea or coffee. Dine beneath the stars on the wooden decks or under the grass-roof. The cozy atmosphere is ideal for drinks and chats late into the night. The menu is carefully curated to represent an international selection suited for every taste. A unique sunken bar in the middle of the restaurant serves a variety of beverages.
Diving
The Mimpi Dive Centre in Menjangan is managed by the Mimpi Group. Like any of Mimpi's dive operations, it is site-based with the expertise to cover all of Bali's northwestern sites. A dedicated team, well-maintained equipment and a passion for quality are combined to put safety above everything.
The convenient location gives easy access to all major diving sites in the area. Staying at this resort gives the additional advantage of being able to go for quiet, early morning dives before the crowd from day-trip divers arrive.
A daily boat to the dive sites of Menjangan Island is arranged to depart at 09:00am after breakfast, directly from the resort's gazebo jetty. The journey to the island takes approximately 30 minutes. For two dives, arrival back to the resort is at approximately 02:00pm, thus leaving an ample amount of time to enjoy the resort's facilities.
Diving to Bali's famous macro-sites Secret Bay and Puri Jati can be arranged by car. Unlike the dive sites of Menjangan Island, both locations offer shallow shore dives. A late afternoon or night dive is mostly arranged to the Mimpi Channel, a narrow entrance channel connecting the resort's secluded bay to open water, which is only 5 minutes boat ride.
Other Facilities/Activities
Snorkeling
Kayaking
Sightseeing
Package Example
Price starting from:
8D/7N Package, 6 days diving US$ 1,551 (per person, twin share)

Valid until 31 Dec. 2022
Includes: Full board accommodation in Patio Room, 12 dives total (2 boat dives per day), airport transfers, tax and service.