Dive Courses in North Sulawesi
Whether you are interested in becoming a certified diver or merely want to further your diving skills and knowledge, Safari Tours can obtain some of the most competitive rates available in North Sulawesi. Should you want PADI or NAUI certifications, please let us provide our personal guarantee to you by arranging this exciting adventure for you.
As a certified diver myself, I can assure you of instructor competency with the operators that we recommend at Safari Tours, guaranteed!
Take your dive course at one of these places: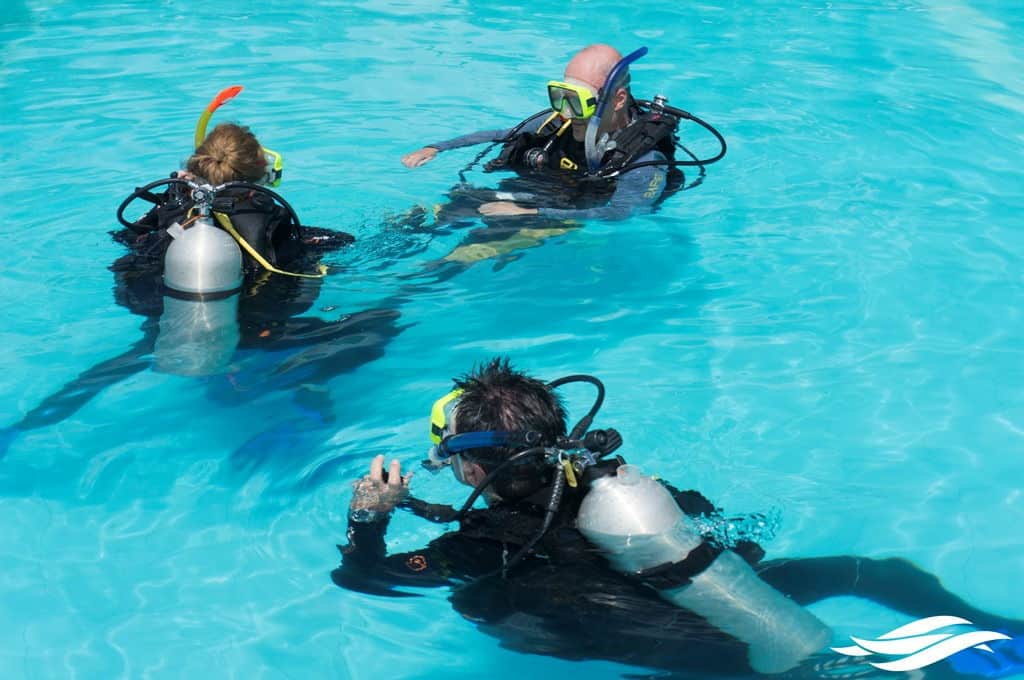 Is this your first dive certification? Please choose below.
PADI Certification Courses
Scuba Diver
The PADI Scuba Diver program is a pre-entry level certification that is perfect for vacationers or people who only plan to dive a couple of times a year. It can be completed in as little as two days. This rating allows you to gain certification quickly and easily by minimizing time constraints. With the PADI Scuba Diver certification you can dive under the direct supervision of a PADI Divemaster, Assistant Instructor, Instructor or higher professional on your next holiday or dive trip.
Open Water Diver
This is the first course available under PADI to achieve certification as an Open Water diver. It is the pre-requisite course for any further training. Armed with your Open Water Diver card, the diving world is your oyster as the certification will be recognised at dive centers around the globe.
Start Today Open Water Diver
"Start Today" courses, where you self-study before coming on holiday, ensure you spend more time where it counts – underwater!
Start Today course includes:
Course materials (CD ROM option available) and instructions (sent you your home)
PADI Open Water course completed in resort
Full set of diving equipment for duration of your holiday
The natural aquarium of the Sulawesi Sea will be your classroom!
Referral Dives for Open Water Diver
If you've already completed the confined-water and academic sections of the PADI Open Water Diver course at home, you can complete your open-water dives on our inviting reefs. In just two days you will gain full certification as an Open Water Diver.
If you are a certified diver, what course do you want to take now?
PADI Continuing Education Courses
Advanced Open Water Diver
The PADI Advanced Open Water Diver course is a two-day training course, which provides Open Water divers with well organised, structured and valuable supervised experience. You will complete five dives in various underwater activities to increase your experience and capabilities.
Emergency First Aid Response
Emergency First Response gives you the skills you need to perform CPR and First Aid. Whether you're a diver or a non-diver, Emergency First Response helps you to properly handle potentially life-threatening situations. This comprehensive program contains two core modules that can be taught in tandem or as stand-alone courses:
Emergency First Response – Primary Care and Emergency First Response – Secondary Care. Together, these courses provide extensive instruction in CPR and First Aid, as well as providing optional (yet recommended) Automated External Defibrillator (AED) and Emergency Oxygen sections. This course is usually conducted over one day.
Rescue Diver
This course is a very important step in expanding knowledge and experience. As with all PADI courses, it is 'performance' based and involves classroom, confined water and beach skill development sessions followed by five open water training sessions. Self-rescue and diver stress; diving first aid; emergency management; equipment considerations; tired diver; panicked diver; response from shore or boat with both a conscious and unconscious victim; distressed diver; surfacing an unconscious diver; unconscious diver at the surface; egress with an unconscious diver; first aid for pressure related injuries; underwater search scenario; response, egress and management scenarios.