Culture and Adventure Tours in North Sulawesi & Gorontalo
The volcanic highlands of Minahasa and the forests of Bitung have kept their hidden treasures to be uncovered by you, our visitors. Land-based excursions focus on rain forest hiking in Tangkoko Nature Reserve along with viewing scenic waterfalls, volcano treking, highland cultural tour and white water rafting. You will be surrounded by lush rice fields, coconut plantations and flower gardens in your travels through the villages of Tomohon, Woloan, and Tondano. Our agro tour focuses on some of the cottage industry agricultural products such as coconut, moonshine, rice and brown sugar. All of the excursions will give you glimpses into the local way of life.
Our day tours and cultural packages are private, except for diving and snorkeling. They will be enjoyed in the comfort of our a/c minibuses or SUV and escorted by friendly & experienced English speaking guides.

Safari Tours no longer provides plastic cups or plastic bottles. If you are doing a land tour activity with us you will receive one stainless steel bottle which you will be able to refill with us for your entire stay and take home with you at the end of your vacation. For guests just doing an airport transfer, we will provide 'Reflections' (Danone) glass bottles.
North Sulawesi Cultural Package Tours
For a detailed description and prices of our Minahasa package tours please click below.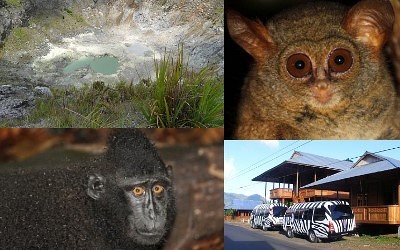 4 DAYS / 3 NIGHTS
Mahawu Volcano, Minahasa Highland, Tangkoko Day or Overnight Tour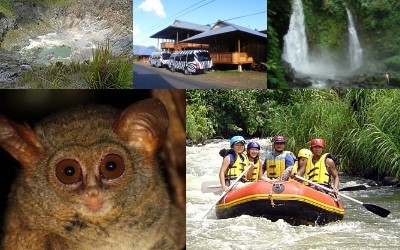 5 DAYS / 4 NIGHTS
Mahawu Volcano, Minahasa Highland, Kali Waterfall, White Water Rafting, Tangkoko Nature Reserve Day Tour or Overnight