Tondano Fun Cycling
Start at 07-08 AM — Tour length: 30 km — Duration: 5 hrs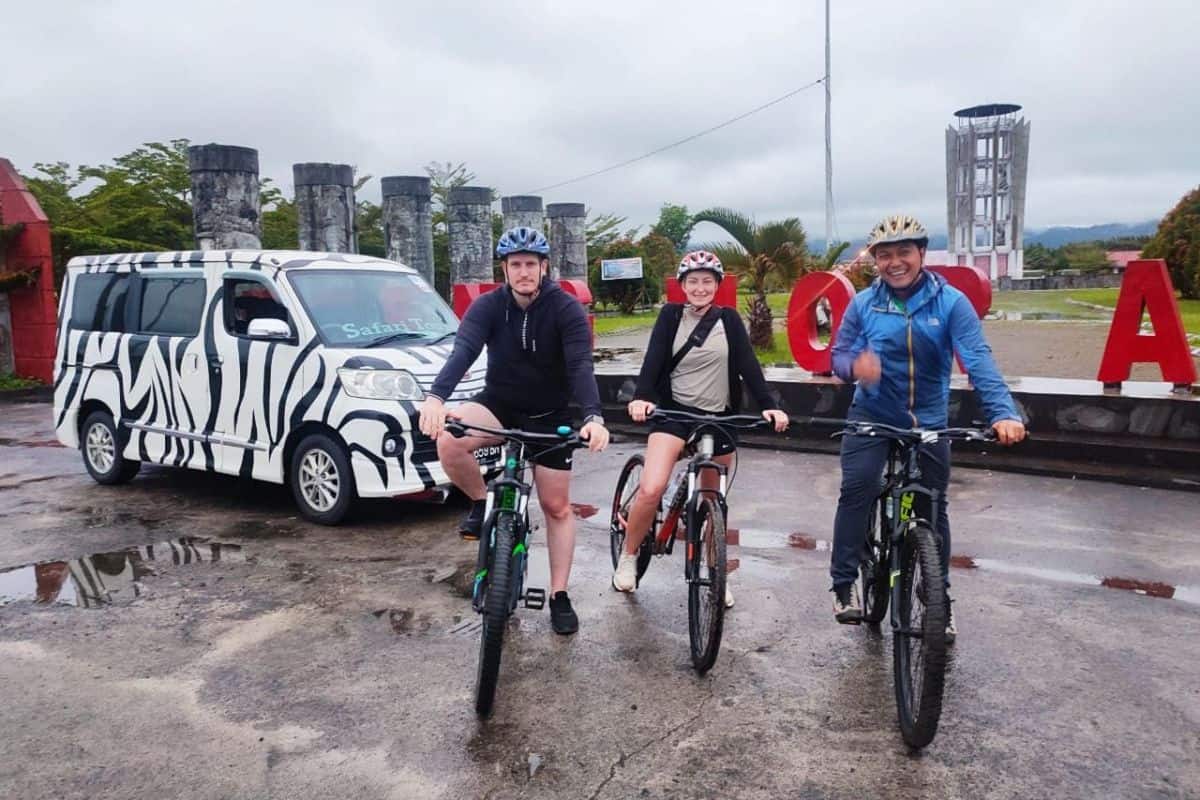 Enjoy a fun cycling experience at the beautiful Lake Tondano in North Sulawesi. This stunning lake is surrounded by lush nature and provides a picturesque backdrop for all cyclists. With its clear, refreshing waters, Lake Tondano is a paradise for those who love cycling in a breathtaking setting. Discover the beauty of nature as you pedal along and feel the fresh breeze in your hair while also having the chance to meet and interact with friendly locals along the way. An unforgettable experience awaits you.
As the sun rises, our journey begins with a scenic ride to a beautiful Chinese temple, set against the backdrop of the impressive Lokon volcano. The morning light paints the landscape with stunning colors, creating a captivating atmosphere. Our adventure then takes us to Tondano, where a tranquil lake rests inside the Tondano caldera. Along the lake's peaceful shores, we witness the unique way of life of local fishermen living in rustic huts on stilts. They work diligently, casting their nets into the pristine waters to catch their daily fish.
Continuing on, our path leads us through lush paddy fields, where we breathe in the fresh air and receive warm greetings from the friendly locals. Their smiles and waves make us feel truly welcome in this charming corner of the world. We take a well deserved break for lunch at a local restaurant, savoring delicious dishes that energize us for the rest of our journey.
Afterwards, we head to a soothing hot spring to relax and unwind in the rejuvenating waters. The thermal springs provide a therapeutic experience, soothing both body and soul as we soak in their natural warmth. As the day comes to a close, we return to our resort in comfort.
Safari Tours Price
Price starting from:
US$120.00/Pax (min 2 pax) – Single US$197.00.
"Dec.15, 2023 – Jan.10, 2024 a 15% holiday surcharge will be added to the normal fee"
In town pick-up from Manado. Bitung: Add US$20 per person.

Valid until Dec 31 2024
Includes: Private transportation, bicycle and safety equipment, 1 lunch, 1 soft drink, cloth shopping bag, a stainless steel water tumbler "Say No To Plastic", all entrance fees, 1 English speaking guide that follows with car + 1 English speaking guide with bike.