Scuba Diving in North Sulawesi: Bunaken, Lembeh and Bangka
North Sulawesi, known to many as the "Land of Smiling People", is emerging as one of the premier dive destinations in the world. One of the main reasons for this is the biodiversity that exists in this region and the fact that this manifests itself in all three locations Bunaken National Park, Lembeh Strait and Bangka Island.
The term the other side often comes to mind when discussing North Sulawesi because which ever of the three locations you choose there is always the other side, truly something for everyone. Most of all the people of North Sulawesi will give you one of the best dive vacations you have ever had.
To experience all the best diving opportunities in this very special region, we recommend that you book and stay at a combination of resorts here. Contact us with your ideas and we'll be happy to create a taylor made package for you.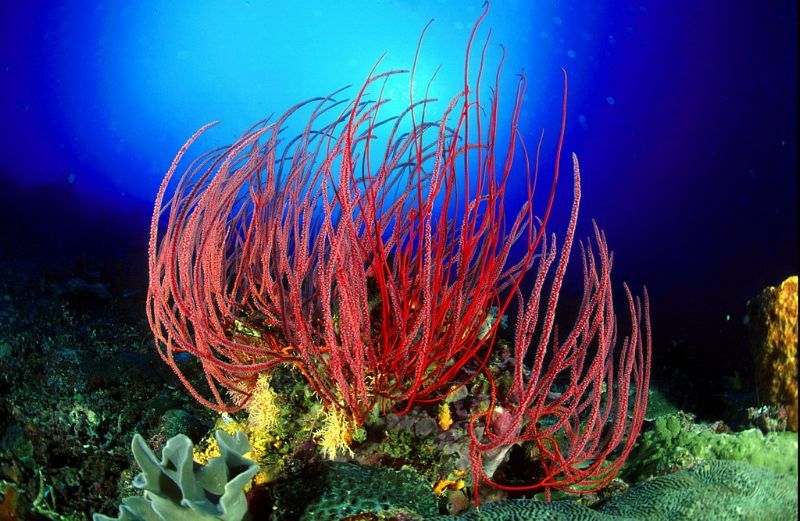 The North Sulawesi Watersports Association (NSWA)
You may wonder why Safari Tours & Travel generally represents only NSWA or NSTO (North Sulawesi Tourism Organization) members. The reason: safety standards, environmental concerns as well as the continued effort of NSWA and NSTO to maintain growth within sustainable tourism limits. Please read the information below and I am sure you will agree, the dive operators that belong to NSWA have your safety as well as a concern for education and sustainable tourism in mind.

Introduction
Formed in mid 1998, the North Sulawesi Watersports Association (NSWA) has adopted as its primary goal the promotion of North Sulawesi as a world-class marine tourism destination through fostering high standards of service and safety and especially by promoting more environmentally-friendly watersports activities within the Bunaken National Park, Lembeh Strait and all marine areas of the North Sulawesi province. The NSWA strives for environmentally-responsible and socially-acceptable common solutions to problems that affect not only the marine tourism sector, but also those which generally effect the health of North Sulawesi's valuable marine ecosystems and thereby the local communities which also rely upon them for food and employment.
The NSWA is an official forum for marine tourism operators to express their united concerns to government agencies and officials and to conduct large-scale public relations and education campaigns to benefit both marine tourism and the rich and diverse marine ecosystems of North Sulawesi.
As of December 2015, the NSWA included 19 business members: Tasik Divers, Eco Divers, Celebes Divers, Gangga Island Resort, Living Colours, Lembeh Resort, Lumbalumba, Two Fish, Sea Breeze,Thalassa 5* PADI Dive Resort, Siladen Island Resort, Froggies Divers, Blue Bay Divers, Mimpi Indah, Murex Bangka, Bastianos, Mata Karang, Nomad Divers Bangka, Grand Luley Resort.
The NSWA meets once a month to discuss issues of common concern to all members (primarily resource management issues), and invites relevant government officials (including the Bunaken National Park management authority and the water police force), environmental NGO's and donor agencies to participate in these meetings. An email list keeps members and non-members informed of progress on NSWA initiatives and recent problems encountered in the park.
During its nearly 20 year history, the NSWA has made significant strides in improving the management and conservation of Bunaken National Park and surrounding marine ecosystems and in conferring concrete benefits of tourism to the villagers living within the park.
North Sulawesi in Numbers:
Completely Different Dive Environments
of Fish and Coral Species