The Arenui – Boutique Liveaboard
Raja Ampat, Komodo, Banda Sea, Alor & more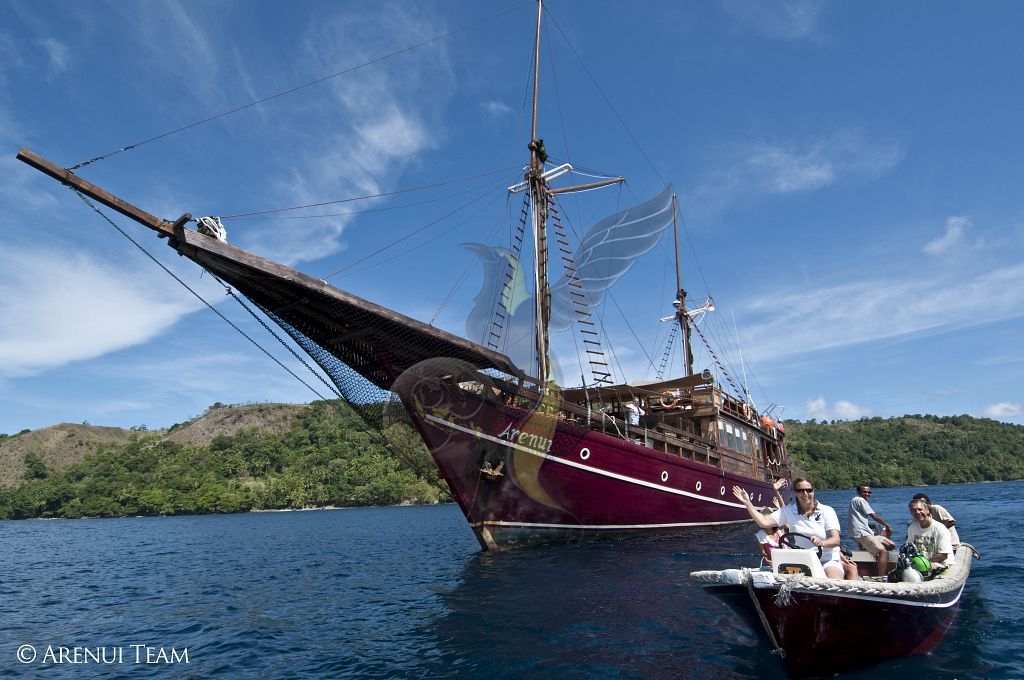 The Arenui dive liveaboard is a traditional and magnificent Phinisi, a classic Indonesian wooden sailing vessel, set to explore the majestic underwater world of the Indonesian archipelago.
Dive with us throughout Indonesia, the world's no. 1 spot for biodiversity, including Komodo, Alor, Maluku, Raja Ampat and beyond! Then unwind with our professional massage and spa treatments.
Intimate but roomy, the Arenui is an exquisite ship and a work of art in itself with its wooden detailing and decorative touches. Moreover, it aims to differentiate itself from other liveaboards by providing personalized accommodation, services and facilities.
With 22 crew serving a maximum of 16 guests, we aim to make your cruise a truly relaxing and first-class experience!
Our 3 Indonesian divemasters (Ali, Toby and Wawan) are rated amongst the most knowledgeable in the region. Ali was trained for many years by Larry Smith ("the legend" of Indonesian's diving industry), Wawan has spent several years diving Raja Ampat and Komodo areas and Toby has an amazing knack for spotting rare critters (famous for being the first to spot the psychedelic frogfish in Ambon Bay). The whole operation is led by our 2 highly experienced western cruise directors, Jerry and Debbie.
Luxuriate in exceptionally spacious cabins, tastefully furnished with exquisite handicrafts from each of the Indonesian provinces. Rest easy knowing our vessel uses 70% recycled wood.
Relax in our indoor restaurant or enjoy the view from our fabulous skydeck. Arenui believes that, even when sailing around remote islands, there's no reason to forego fine dining! After all, a relaxing meal prepared with care and style is the best way to remain full of energy for the next dive! Rather than the typical dive liveaboard buffets, you will be able to choose from our daily a-la-carte menus.
When it comes to the dive itineraries, the Arenui has chosen the best dive sites and the best times of year to explore these world famous destinations. Whether its nudibranchs and rhinopias you're after, or manta rays and schooling fish, our cruises have it all. Plus, in Komodo, we even dive in the shadow of an active volcano to feel the bubbling hot springs, and take a stroll on land with Komodo's giant lizard population.