Ikan Biru Liveaboard
Komodo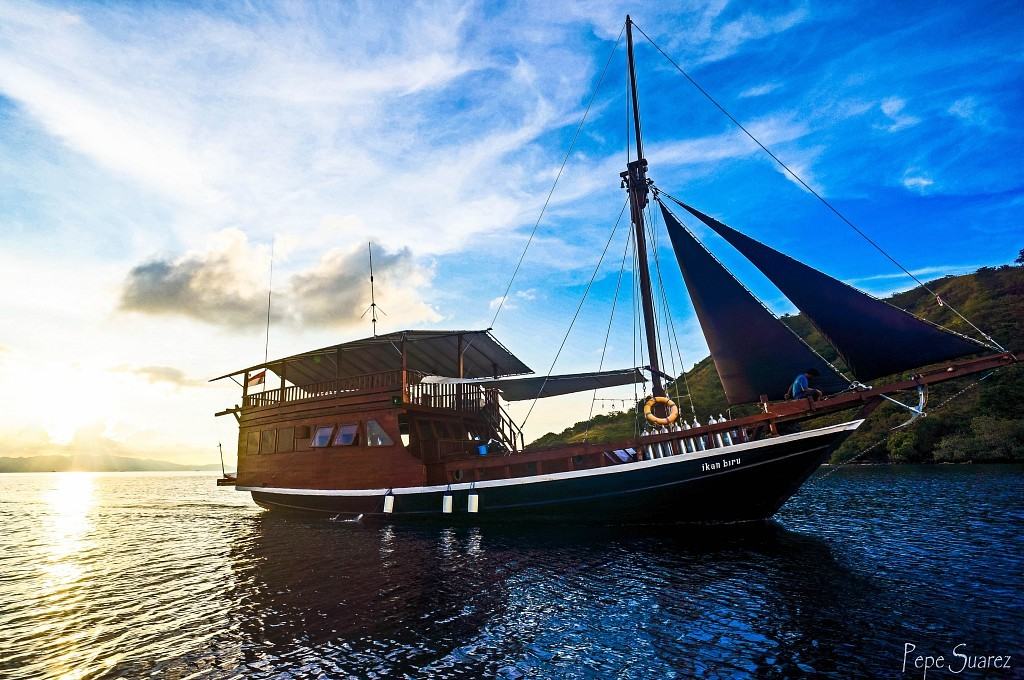 Ikan Biru liveaboard runs on a rolling schedule with a unique, "hop on, hop off" concept. This means that you decide when to arrive, how long to stay (minimum 3 nights) and when to disembark, effortlessly whisking you to and from the liveaboard using either of their day boats. They charge per night which guarantees guests a minimum of 3 dives per night booked.
Ikan Biru is an "advanced certification only" boat that provides guests with the opportunity to dive the best spots in the park at optimal tides. This means divers are able to dive Manta Point at the best times for mantas and hit The Cauldron on a fast falling tide to experience the ultimate adrenaline rush. They ensure guests get a minimum of 3 dives per night, but you might find that full days on the boat allow time for up to 5!
Boasting a spacious upper deck, Ikan Biru is fitted for maximum 8 guests to relax, dine and sleep under the stars in absolute comfort. Serving as a cushion filled lounge during the day, at night the crew convert the upper deck into open-air sleeping with comfortable mattresses and bedding. The two below-deck guest bathrooms are stocked with all necessary toiletries and hot freshwater showers.
The boat is equipped with a fully stocked kitchen with two fridge/freezers, beer/wine cooler and gas cook top/oven. Their onboard chef is a pro in that space and even serves freshly made bread each morning. Ikan Biru is equipped with modern marine safety equipment and an exceptionally experienced sailing & dive crew per marine tourism guidelines.
Ikan Biru costs USD 265 per night per person. The cost is inclusive of dive gear, rental dive computer, dragon trekking, food, soft drinks and juices but exclusive of park entrance/diving fees and alcohol. Guests must stay a minimum of 3 nights to ensure that we can visit both the Komodo dragons at Pulau Rinca and the north side of the park as these attractions are on opposite sides of the park.
Ikan Biru takes advanced certified divers. The Advanced Open Water course is available as a special package an additional USD 245 per person.
Safari Tours Package
Ask For Price
Includes: Dive gear, rental dive computer, dragon trekking, food, soft drinks and juices.
Exclusive of park entrance/diving fees and alcohol.