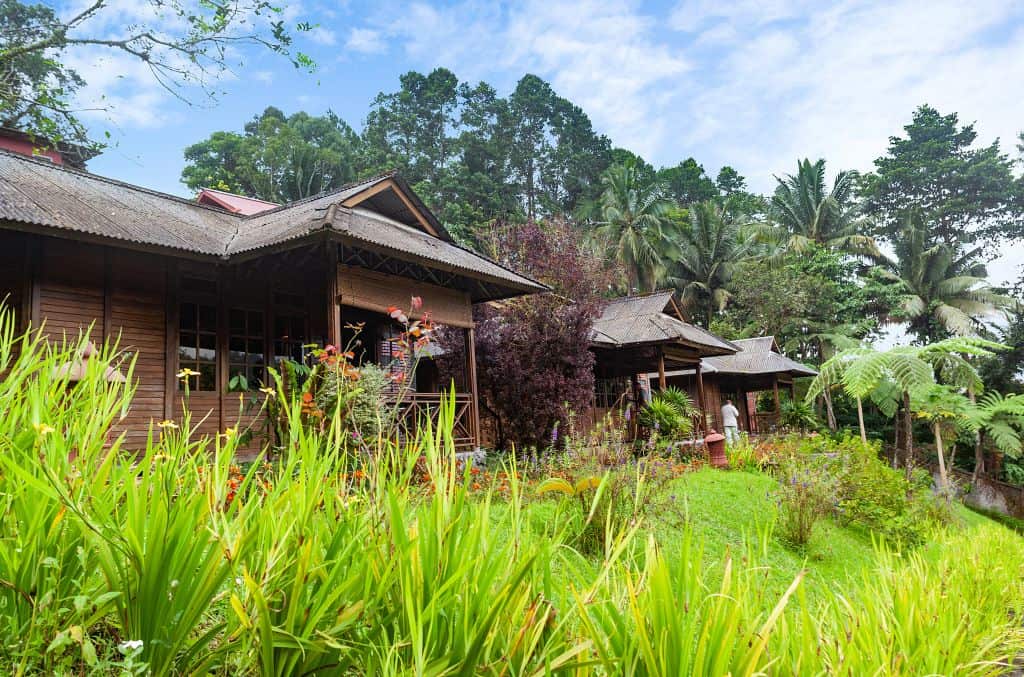 The Highland Resort near Tomohon is an ideal place to base yourself when you want to explore the natural wonders of the Minahasan Highlands. This unique resort offers a cool respite from the tropical heat of town, and a quiet venue to relax and enjoy the lush vegetation and birdlife found in the highlands.
Located in Kinilow, a small village situated between Manado and Tomohon, the resort itself is set back nearly ½ kilometer from the main road and the hustle & bustle of traffic. The cottages face the hills and down a ravine and is only 20 KM from Manado and 5 KM to Tomohon. At an altitude of 700 meters above sea level, the Highland Resort's cooling mountain air will suit everyones desire to have it warm during the daytime and cool at night. Tomohon is the nearest town with small local shops and an interesting traditional market which is well worth a visit early in the morning. A dramatic feature of the Resort's location is the promimity to the volcanoes and waterfalls of the area. The volcanic soil of the area provides the lush vegetation surrounding the resort while this region is also well noted for producing most of the vegetables and flowers supplied to Manado.
Traditional Indonesian architecture has been used in the construction of the cottages. Artistically designed furniture made of coconut wood is a feature in every room. Beauty and privacy has been achieved by terracing the front of all the units with exotic plants and flowers.
There are five categories of rooms: Standard, Superior, Deluxe, Highland Suites and Highland Grand Suites. All have private bathrooms with hot and cold water shower.
For the Standard and Superior categories each unit has two rooms under one roof, while the more spacious Deluxe Rooms and the Suites are private stand-alone cottages. Superior, Deluxe and Suites have coffee and tea making facilities, satellite tv and a fridge. Additionally the Suites have a ceiling fan and king size bed. The most luxurious option, the Highland Grand Suites, are equipped with spring bed, sofa, safety box and additional amenities. WiFi is available free of charge in all rooms.
Other Services and Facilities:
Welcome Drink
Internet Hot Spot (all rooms)
Restaurant (Western & Asian)
Laundry
IDD Call
Package Example
Highland Suite US$ 85.00/night (per room, twin share)
Valid until 31 Dec. 2023
Includes: Tax, service, breakfast & dinner, free Internet.