Sintesa Peninsula Hotel Manado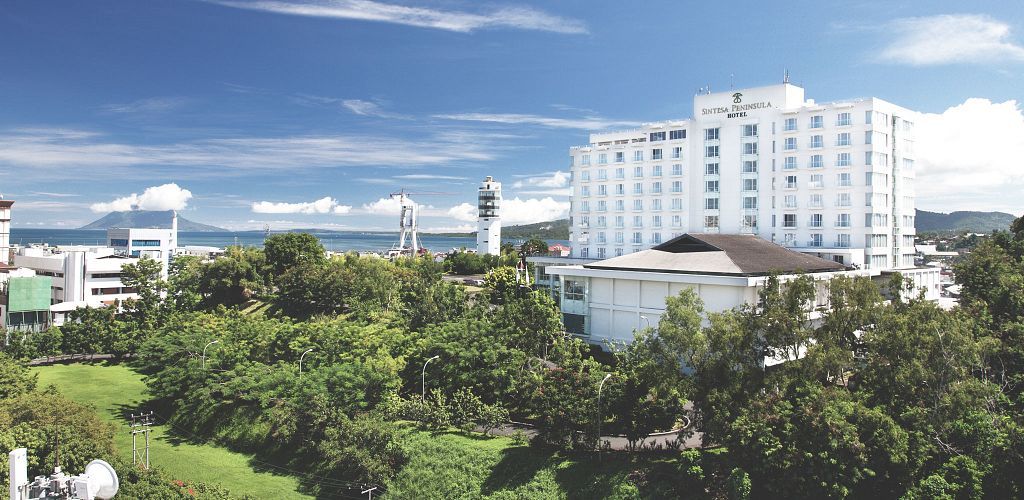 Located just 30 minutes by hotel shuttle from Sam Ratulangi International Airport and in the heart of Manado City, The Sintesa Peninsula Hotel features 145 spacious and modern superior rooms, studios and suites. With a minimum of 45 square meters of space, oversized bathrooms including separate showers and floor to ceiling windows providing stunning views of the surrounding mountains and islands, we are sure that you won't be disappointed in this new standard of luxury in Manado!
The Sintesa Peninsula Hotel also offers comfort and casual dining in the Gardenia Restaurant which serves a wide variety of both local and international foods. For your relaxation, the Orchid Lounge and Cocktail Bar offers a well appointed cocktail bar for you to enjoy the latest in cocktails while listening to our nightly live entertainment. For those who love Karaoke, Club Deluxe provides 15 spacious and private Karaoke rooms all featuring state of the art sound and audio-visual equipment.
If you want a bit more, there is plenty to do at the Sintesa Peninsula Hotel, the swimming pool offers a chance for a cool dip on a hot day or a place to just lounge soak up the sun's rays while enjoying a fresh fruit drink. Whatever your desire, the Peninsula Team are there to make your stay, both relaxing and enjoyable.
Package Example
Price starting from:
Superior Double Room upgrade* to Corner Suite: US$ 113.00/night *(subject to availability)
Valid until 29 Dec. 2023
Includes: Buffet breakfast, tax, service, free Internet.
Sintesa Peninsula Hotel Manado