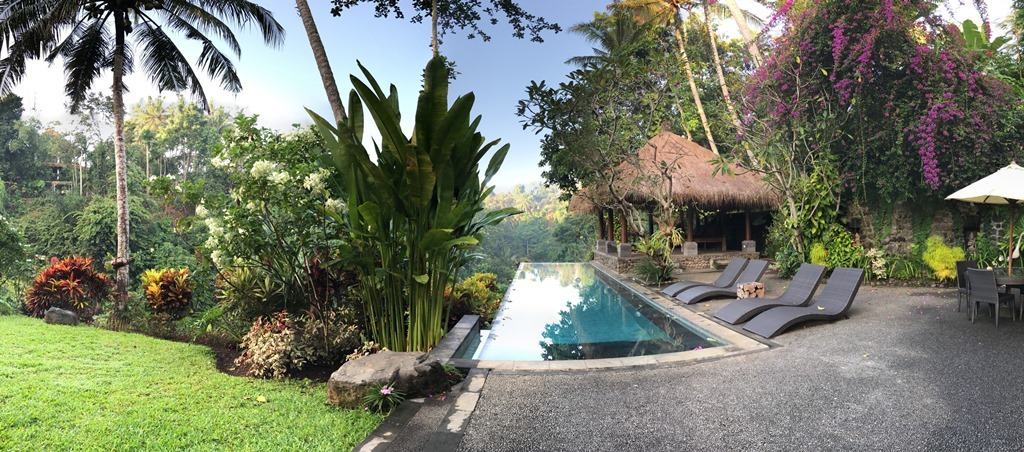 Alami Villa is perched on the edge of the stunning Petanu River canyon and has a river view from every room. The word 'Alami' means natural, or "at one with nature" in the Bahasa Indonesian language. From the second you step through the front door you will understand completely.
Although the location is only 2 miles from the excitement of Ubud's Monkey Forest, Alami Villa embraces and surrounds you like a peaceful sanctuary. Located near the famous Elephant Temple, Goa Gajah, and the Chedi Club, the villa so close to Ubud that most Ubud restaurants happily deliver to the villa free of charge!
The residence is surrounded by lush and vibrant Balinese gardens. It is perched above the boisterous Petanu River filling the air with misty morning sun rays, cool river breezes, and happy water-song. From the villa you are surrounded by views of the colorful gardens, the happy river, bright-blue Balinese kingfishers, wild monkeys and many other natural wonders. Our warm and welcoming staffs include our outstanding (Awarded Concierge International Golden Key) House Manager, our attentive houseman, professional chefs, drivers and cultural tour-guides, as well as several professional masseuses. Alami Villa is secluded in nature while being so close to Ubud that you can be there in just minutes!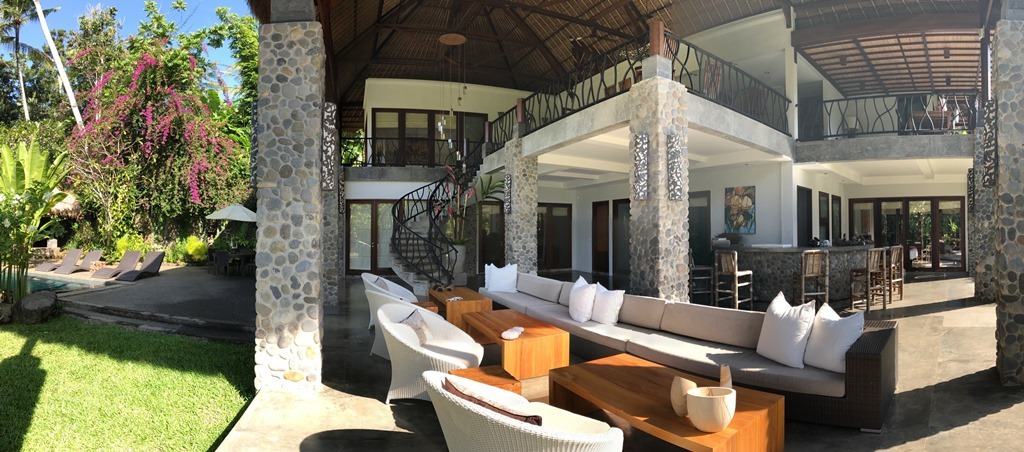 The Rooms
Deluxe King-Size Rooms
Alami Villa has four master bedrooms, each with individually controlled air conditioning and highest quality Serta mattresses plus private garden shower and polished cast bathtub.
The Best of Both Worlds
This is true Bali-style to welcome inside the lavish gardens and cool breezes. Large open-air dining and lounge areas invite gorgeous views as you unwind, and big private bedroom areas (air-conditioned) with private garden showers and baths allow you to cool-out or embrace the river valley ambiance, as you please.
Dining
Style, Comfort and Privacy
This is true Bali-style. Large open-air dining and lounge areas while the sounds of gentle streaming river create serenity. For a nominal fee we will have a professional chef prepare special dinners for your group.
Other Facilities/Activities
Cycling
Freshwater Fishing
Snorkeling
Golf
Hiking
Mountain Biking
Mountain Climbing
River Rafting
Swimming
Elephant Riding
Shopping
Spa Treatments
Cultural Immersion
Fine Dining
Package Example
Price starting from:
4D/3N Package, 4 bedroom villa (1-8 persons) : US$ 1,905
Valid until Dec 15 2023
4D/3N Package, 4 bedroom villa (1-8 persons) : US$ 2,620
For Dec 16 2023 – Jan 01 2024
Includes: Breakfast, daily housekeeping, night security, free Wifi, tax and service