Suara Air Luxury Villa Ubud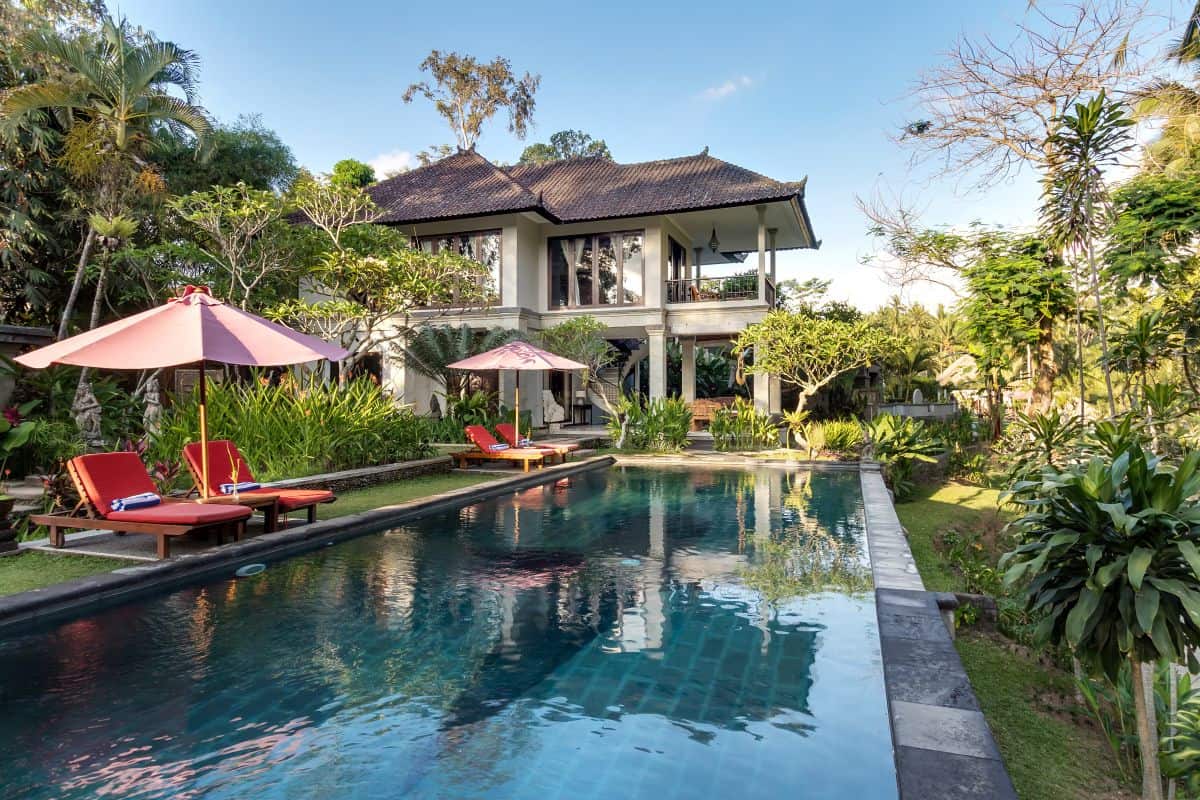 Ubud needs no introduction. Bali's world-famous epicenter for art and culture has been a must-see for decades. While it maintains its time-tested appeal to those seeking a more spiritual experience in Bali, it is today a buzzing city of artists creating art of all kinds. Temples, ancient sites, and ancient rites; in Ubud art and spirituality merge into what can only be called the "Ubud lifestyle," making it one of the top attractions in all of Indonesia. Don't be fooled however, behind all of the bustle Ubud's peaceful idyllic countryside and gorgeous rice fields remain a top spot for meditation, sight-seeing, and top-quality relaxation.
Suara Air Luxury Villa welcomes you to the magical Ubud countryside. Located in the midst of exquisite landscapes only 10 minutes from Ubud village, the Villa boasts a chance to savor traditional Balinese style along with the amenities of modern luxury. Inspired to feel like a hidden heaven, the beautiful guest rooms are interspersed within a lovely tropical garden, and enveloped by lush tropical jungle and glowing rice fields. Two small rivers running throughout the grounds inspire the Villa's name: "Suara Air" or "sound of water," and provide guests with a beautiful and relaxing natural soundtrack over the entire area of the resort. Join us at Suara Air Luxury Villa, recharge and rejuvenate to the sound of water.
Rooms
The 12 rooms at Suara Air Luxury Villa are a mellow fusion of Balinese and modern styles. The rooms and the garden compliment each other and immerse guests in a truly wonderful ambience.
The 2 spacious Suite rooms provide a space of nearly 70 square meters and offer wonderful views overlooking the zero-edge swimming pool and tropical gardens on their own private balconies. Each suite room features an extra large bedroom with king-size bed, a spacious bathroom with bath tub, and a separate sitting area.
The 7 Garden Villa rooms offer wonderful views of the surrounding rice fields. The rooms feature traditional Balinese character combined with a tasteful mix of crafts from all over Indonesia. The Garden Villa rooms offer guests about 40 square meters of space, a large bedroom with king-size bed, bathroom, and a terrace area decorated with tropical flowers.
Each of the 3 Private Pool Villa rooms pamper guests with their own enclosed private swimming pools, and come with either 1 or 2 bedrooms.
Other Room Features:
Air-conditioning
Tea/coffee-making facilities
TV
Fully-equipped bathroom including hairdryer
Free Wi-fi
Maximum capacity per standard room: 3 people
Dining
Suara Air Luxury Villa is pleased to offer guests a wide variety of food and drink in its cozy in-house restaurant+bar. For breakfast, guests are greeted with a delicious selection of à la carte delights. Lunch and dinner offer freshly cooked dishes spanning everything from exotic local flavors to western cuisine.
Other Features
In addition to the above, Suara Air Luxury Villa offers the following opportunities:
Explore many of Bali's best sites with specialized Guided Tours
Enhance your relaxation with the resort's full Spa and Massage Service
Explore a new culinary world through Balinese Cooking Courses
Get creative with traditional Arts And Crafts Classes
Experience the adventure of exhilarating Cycling and Rafting Trips
Package Example
Prices starting from:
4D/3N package US$ 370 (per person, twin share)
Includes: 3 nights stay One Bedroom Pool Villa, daily breakfast, roundtrip airport transfers, free wifi, tax and service.
4D/3N package, US$ 285 (per person, twin share)
Includes: 3 nights stay Garden View Villa, daily breakfast, roundtrip airport transfers, free wifi, tax and service.
Valid until 31 Dec 2023
Suara Air Luxury Villa Ubud