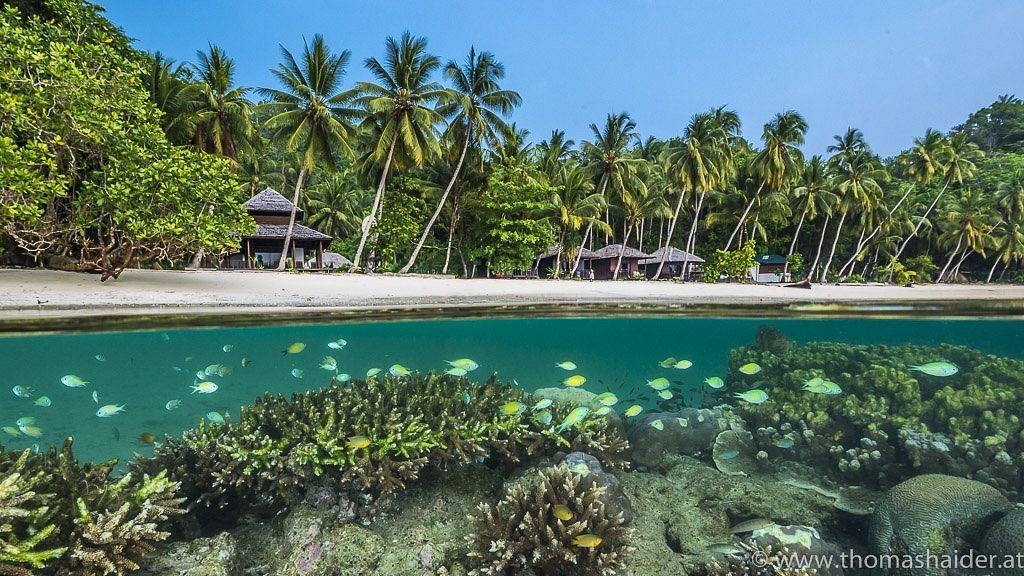 Triton Bay Divers is the first and only dive resort in the area and is located on a secluded beach on the island of Aiduma, just 90 minutes by speedboat from the town of Kaimana. It is is a partnership between the founders and the family that own much of the land around the island. The founders felt that the long term success of this project depends on having the local community fully behind them and benefiting from the business.
The resort offers six spacious detached bungalows, each with ocean views, hot water showers and large ceiling fans. Currently there is no phone signal but they do have limited internet connectivity. Electricity is available between 6:30 am and 11:00 pm daily. Free scheduled transfer between the resort and the airport is on Saturday.
A divers paradise, there are more than 30 known dive sites around Triton Bay, and possibly just as many yet to be discovered. The resort is just minutes from some of the best dives sites in the area, where divers can see everything from whale sharks to pygmy seahorses. The region is also known for its beautiful soft coral and the spectacular P. Nursalim Flasher Wrasse, that is endemic to the area, and which Triton Bay Divers are happy to report can be found on their house reef.
Diving season is mid September to early June and water temperature averages around 28 Celsius. However it can dip to 24 Celsius towards the beginning and end of the season.
As only a few liveaboards ever reach this area you will be one of only a very few to experience the wonders that lay beneath the waves.
Package Example
8 Day 7 Night Dive Package € 2,257 (per person, twin share).
Valid until 30 Dec. 2023
Includes: Full board accommodation with hot water shower including breakfast, lunch, afternoon snack and dinner, unlimited regular coffee, tea and water, 3 boat dives per day (total 15 boat dives), airport transfers from Kaimana Airport on Saturday.
Not Included: Wednesday transfers to and from Kaimana (€ 200 each trip), Marine park fees (IDR 600,000 per person)
Soft drinks, fruit juices, and alcoholic beverages, other excursions, gratuities.
Please note: Transfers to the resort from Kaimana on Saturday and the cut off time is at 2:00 PM & The resort is closed from June to mid-September due to the East Monsoons.