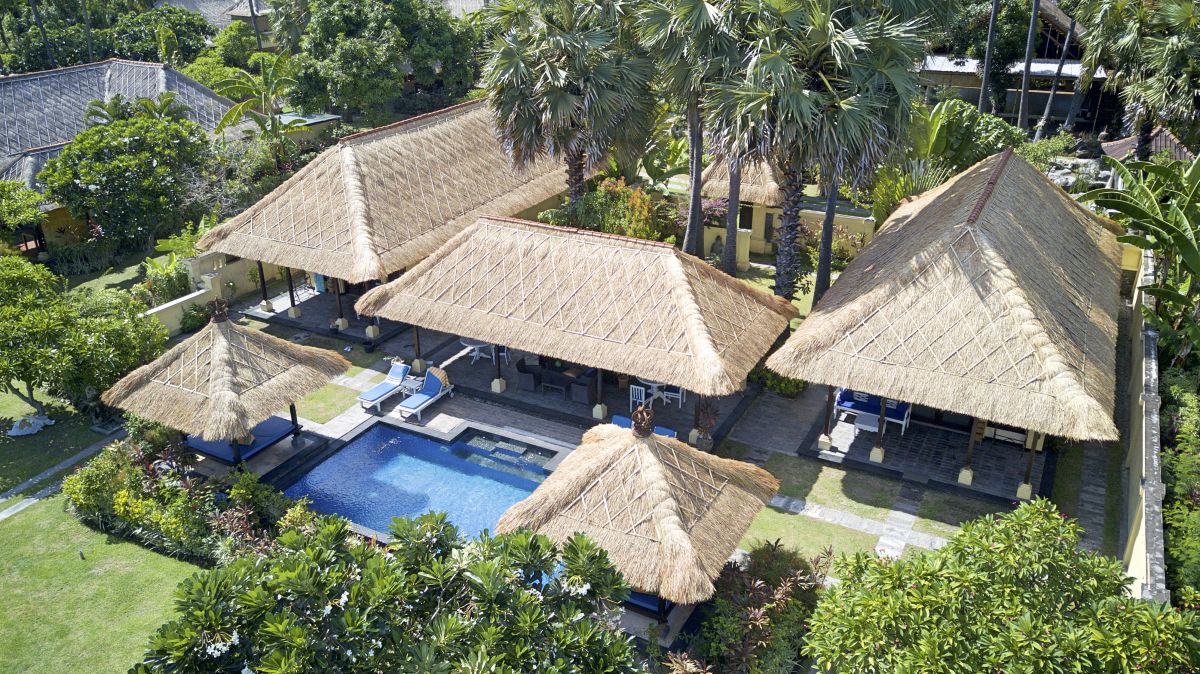 Your own luxurious house, beachside in Bali.
Amertha Bali Villas invites travelers to feel at home in one of their gorgeous tropical villas. Located on a lovely seaside tract in the Singaraja area of Northwest Bali, the resort features a spectacular collection of boutique houses, each with its own unique style, set to an incredible backdrop of epic mountains and crystal-clear blue sea.
The resort itself has the feeling of a heavenly tropical beachside neighborhood, complete with restaurants, scenic pools, an in-house dive center, and of course, the beach. Each Villa is a full-featured residence, privately enclosed within its own spacious garden with its own private swimming pool. With a variety of sizes and configurations, the Villas can accommodate anyone from large groups to solo travelers. The Villas feature a tasteful mix of Balinese and modern style, complete with top-tier furnishings and facilities, literally providing guests with all the comforts of home and more.
Stepping outside the villas, the landscape of Amertha Bali Villas is equally stunning. Boasting a stylish and enticing array of decorated gardens, gazebos, poolside and seaside lounge spots, the resort offers tranquility and relaxation in nearly every corner. For those looking to pack some action into their holiday, the resort offers nearly every imaginable kind of fun in the sun; from scuba diving and island-hopping adventure, all the way to customized Balinese cooking and craft classes, and luxury spa indulgence. No matter what your fancy is, Amertha Bali Villas has an absolutely unforgettable holiday experience waiting for you.
The Rooms
The 14 gorgeous villas of Amertha offer both oceanfront and garden view accommodation. The 3 oceanfront villas offer spectacular views of the beautiful Balinese sea, while the 11 garden view villas combine the ambiance of the resort's lush tropical interior and views of the towering mountains further inland. Each of the villas has its own unique floor plan, architecture, and furnishings, with capacities ranging from 6-10 guests. Each villa also features its own private swimming pool with gazebo, indoor and outdoor showers, a fully equipped kitchen with dining area, and a living room.
To cater to smaller groups and single travelers, Amertha also allows guests to book the individual suites of the villas.
All Villas and Suites come with complete amenities, satellite TV, mini-bar, air-conditioning, and high-speed
WI-FI. The resort also offers room service and laundry service to all guests.
Dining
It's no surprise that Amertha Bali Villas features wonderful options for wining and dining. Guests can enjoy a snack at the resort's very charming cafe, or they can kick back at Amertha's beachside restaurant, sitting quite literally on the beach, enjoying a wide selection of delicious food and drink with their feet in the sand. There's even a pool bar that can whip up spectacular seafood barbecue on order. And, on top of all of this, guests also enjoy the option to feel completely at home via room service, with freshly cooked meals brought straight to their villa's private dining area at any time.
Other Features
Explore magnificent tropical reefs on Snorkeling and Diving Trips
Get to know Balinese culture first hand with a variety of Village and Temple Tours
Pamper yourself with the resort's full Spa and Massage Service
Seek tranquility and health in Amertha's Yoga Shala
Explore the Balinese culinary world through Balinese Cooking Courses
Kids and adults can get creative with traditional Arts And Crafts Classes
Go dolphin or bird watching with a variety of Wildlife and Trekking Tours
Package Example
Price starting from:
7D/6N package, 5 days diving USD 1,320 (per person, twin share)
Includes: 6 nights stay at Garden View Villa, 5 diving day at Pemuteran Bay (2 boat dives per day), full board meal plan, roundtrip airport transfers, tax and service.
Valid until Mar 31 2024