Harmony Bay Resort, Togian Islands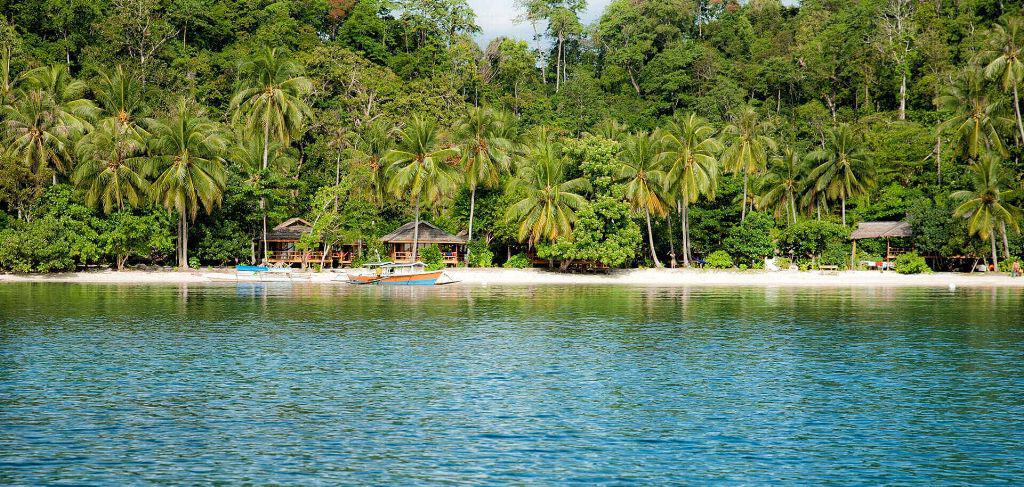 Harmony Bay opened in February 2016 with the wish to make their guests see the beauty of Togean Islands. Harmony Bay will give their best, to make your stay as memorable as possible.
The Resort
The resort features deluxe bungalows, standard bungalows, and economy rooms. We offer only deluxe bungalow which are situated in the first row, only few meters from the sea. All deluxe bungalows have a private bathroom with western shower and toilet, king size bed (180×200) with a mosquito net. In front of the room is a 15 m² terrace with two hammocks, chairs and table.
Dining
Since Harmony Bay is in a secluded location away from restaurants and cafes, Harmony Bay will provide all the meals for you in other words full board. Harmony Bay understands the importance of providing a variety of flavours and dishes and at the same time support local community. As such Harmony Bay source most of their ingredients locally from the local farmers and fishermen. Harmony Bay offers a variety of cuisine such as fish, meat, eggs, tofu, tempe and top it off with lots of vegetables. Breakfast is served in a relaxed manner. Lunch and dinner have set timings and are served for all resort guests together at one long table. Coffee and tea are served with breakfast and we provide complimentary water during all meals. You can order fresh juices, cold drinks and beer (extra charges apply).
Activities
Snorkelling : Enjoy Harmony Bay house Reef only a few meters from the Beach. Every time you go in it offers something different.
Hammocking : Deemed by most to be the best thing to recharge after diving.
Campfire : When the sun goes down peoples at the resort often sit by the campfire and enjoy the evening in good company.
Jellyfish Lake and Karina Beach : Unique experience of swimming with the jellyfish. It is known to exist in only few places in the world and the Togeans is one of them. (extra charge)
Whole day trips to Malenge : Visit a sea gypsy village in Malenge where you can see the famous bridge in Papan Island, supposedly one of the longest jetties in Sulawesi. snorkelling stops on the way. (extra charge)
The Diving
The Togean Islands lie in the heart of the coral triangle and Harmony Bay is proud to be able to offer diving on some of the best diving spots in South East Asia. Being located on Kadidiri, Harmony Bay has access to a wide variety of dive sites. You can choose between walls, slopes, coral gardens and muck dive sites. Sites around Kadidiri offer an abundance of hard and soft corals as well as incredible fish biodiversity. Harmony Bay does not limit the diving to Kadidiri and as such offer trips to other, more distant dive spots. Let Harmony Bay take you to explore the walls of Una Una, Bomba Atoll, Malenge Reefs and a definite must, WWII wreck 'Consolidated B-24 LIBERATOR' (extra charge).
Please note: A generator provides electricity from approximately 6:15 AM – 7:15 AM (1 hour) and 18:00 to 22:00 each evening.
Package Example
Price starting from:
Low Season: 8D/7N Package, 6 days diving IDR 8,990,000 (per person, twin share).
(01 Jan – 14 Jun, 16 Oct – 15 Dec)
High Season: 8D/7N Package, 6 days diving IDR 9,650,000 (per person, twin share).
(15 Jun – 15 Oct, 16 Dec – 31 Dec)
Valid until 31 Dec. 2023
Includes: 7 nights accommodation in Deluxe Bungalow, full board, 12 dives (2 dives per day), tax, and transfers.
Due to long distance boat rides, fuel surcharge applies to Atoll & Goa Goa, Malenge, Una-Una and B24 wreck (payable at the resort).