Sorido Bay Resort, Raja Ampat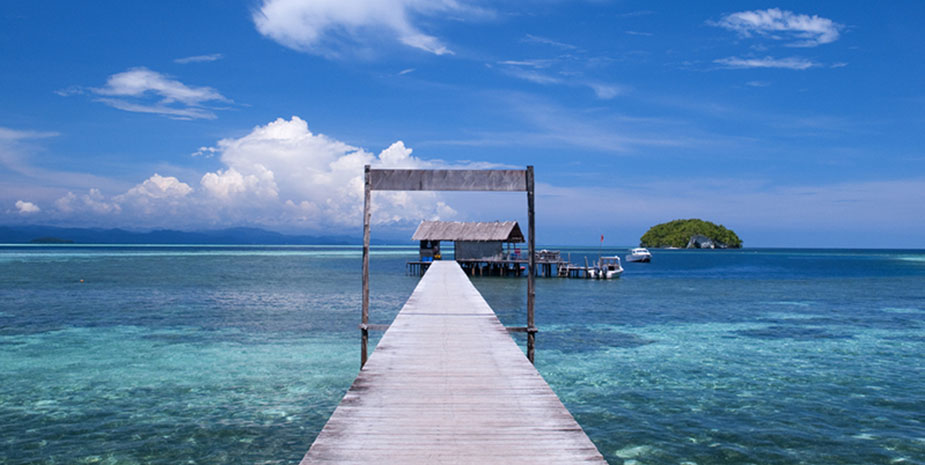 Sorido Bay Resort is located a short 15 minute walk along the beach (during low tide) from its sister property Kri Eco Resort. The resort which opened in 2004 is built to offer all western comforts, combining modern and traditional Papuan building methods. The results are confortable beachfront bungalows, completely integrated in nature with one of the world's richest dive sites as its house reef.
The bungalows are extremely spacious and comfortable, with en suite bathroom, satellite TV, AC, fan, and mini bar. Each room also has a spacious camera work table with both 220V and 110V power outlets, as well as a camera rinsing area. Tastefully decorated with authentic Papuan artifacts, each bungalow has a private verandah that offers breathtaking views of Cape Kri.
The main building of the resort provides a one-stop solution for guests to unwind, with an inviting lounge area, library, all-day coffee and tea facilities, snacks and wireless Internet connection. The dining area in the main building is spacious, with a splendid view over the bay, where guests enjoy delicious variety of cuisine.
When staying at Sorido Bay you will have it all, beautiful topside location, unbeatable diving, and top accommodation with excellent food.
About Papua Diving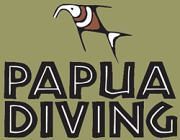 Papua Diving is a Dutch owned and managed company, pioneering scuba diving in Raja Ampat since 1990. With almost 30 years of diving experience, no operator knows the area as well as Papua Diving, thanks to their all indigenous Papuan dive staff, all born and raised in the area.
Their operation is based on Kri Island, about 75 km northwest of Sorong at the tip of the bird's-head-like peninsula in Papua. Papua Diving is now operating two resorts on the island, Kri Eco Resort and Sorido Bay Resort. Guests reach the resorts by flying to Sorong, and then taking the 2 hour boat ride provided by the resort. The resorts offer comfortable accommodation in truly unspoiled nature, with spectacular topside scenery and incredible diving and snorkeling at the world's richest reefs.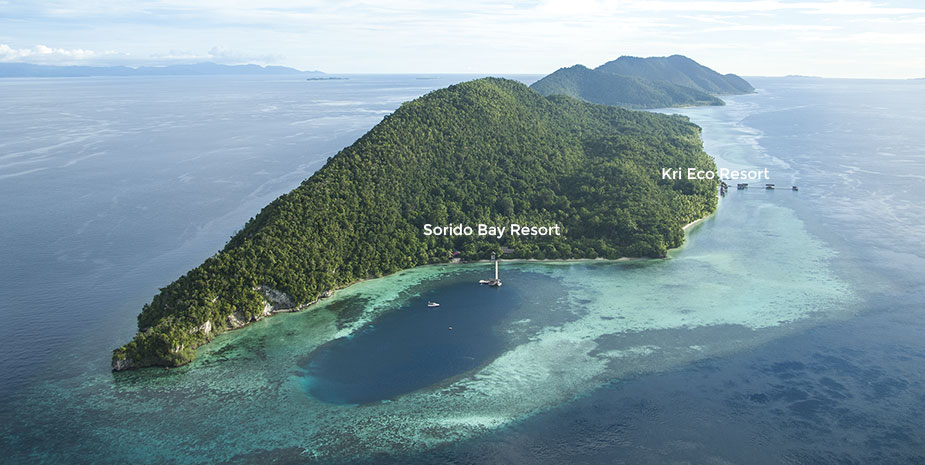 Papua Diving offers unlimited diving with a maximum of 6 divers in each boat, and strives to have one guide for every 2 divers, thus all diving is tailor made and personalized. Guides are experienced and the diving reflects that. Divers utilize custom made fiberglass dive boats and are equipped with first aid kits, oxygen, compass, GPS navigation and communication equipement.
Each day's diving is different and may include from 3 to 5 dives (3 day dives + 1 night dive being the average), depending on the divers' desires. The unlimited dives offered are for dive sites within a 10km radius of the resorts. Guests generally will not find it necessary to go outside of the 10km radius, as there are many beautiful dive sites in the area.
Guided boat diving is not offered between 6PM Friday till 6PM Saturday. Saturday day time unguided house reef diving is still possible. Saturday evening guided (boat) night diving is possible.
Raja Ampat is not only stunning underwater and as Papua Diving does not offer diving between Friday and Saturday, dusk to dusk, Saturdays are the perfect times for rest and relaxation, to explore the island, swim, snorkel, kayak, and enjoy some time off from diving. The area is far off the beaten track and is rarely visited by foreigners. It's dense jungle interior is known for its many orchids and the Bird's of Paradise. Free transport is provided to see the Red Bird of Paradise on nearby Gam Island early on Saturday mornings.
Package Example
Price starting from:
8D/7N unlimited dives package € 3,289.00 (per person, twin share)
Valid until Dec 31 2024
Includes: Full-board accommodation in Sentani Bungalow, Sunday-to-Sunday transfers with airport pick-up and porter services, government taxes, unlimited dives (5 days from Monday-Friday) with 3 guided boat dives + 1 guided dusk dive OR 1 night dive per day (within 10 km radius around the resort except on Friday evening) and unlimited unguided house reef dives between 07:00-21:00 within 10 km radius of the resort, FREE NITROX, tax & service.