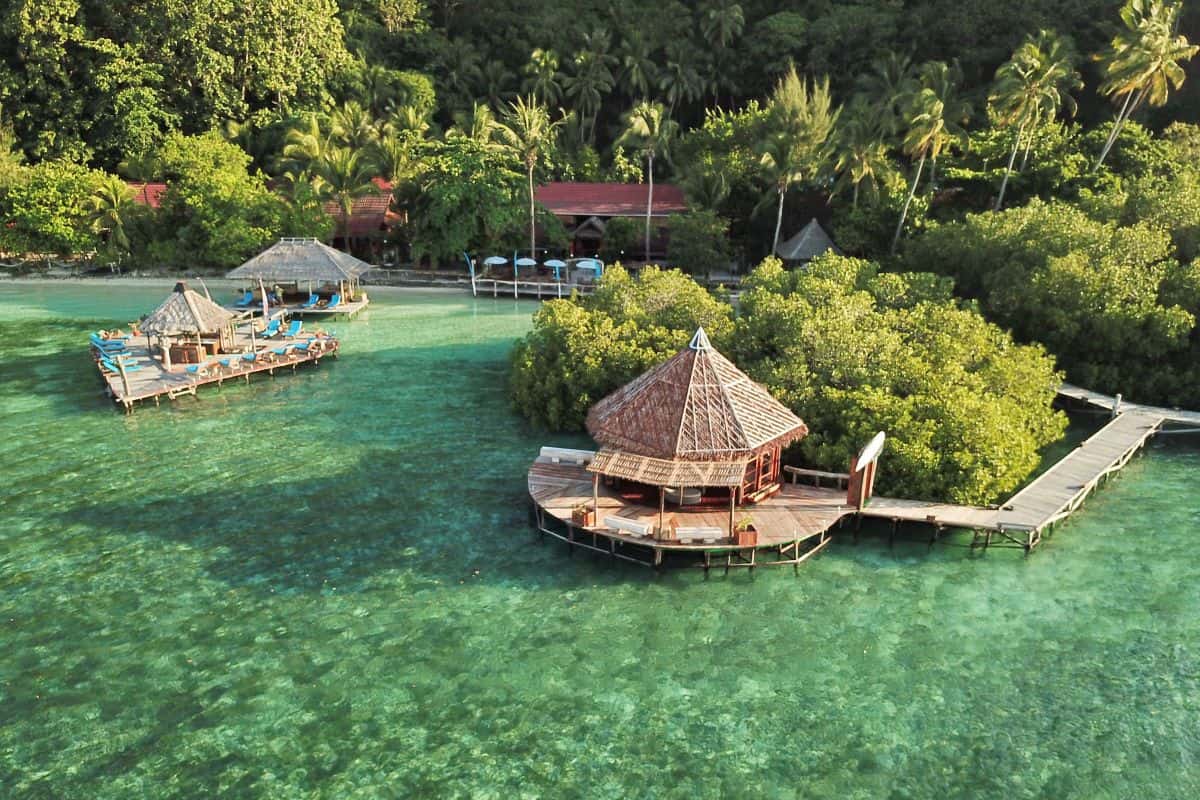 The Raja Ampat Dive Lodge is stragically located on the island of Mansuar at the southern tip of Waigeo, the largest of the four main islands in the breathtaking Raja Ampat archipelago in Indonesia. It offers an unparalleled scuba diving experience in one of the most pristine and biodiverse marine environments on the planet. With its crystal-clear turquoise waters, vibrant coral reefs, and abundant marine life, Raja Ampat is a true paradise for divers.
The lodge offers comfortable and eco-friendly accommodation options that blend harmoniously with the natural surroundings. The cozy bungalows and cottages are nestled amidst lush tropical gardens, providing a tranquil oasis where you can relax and unwind after a day of exhilarating dives. There is a total 20 rooms in 10 Bungalows, including beachfront traditional bungalows & family rooms. Each unit is air-conditioned and equipped with en-suite bathrooms (hot/cold water). The resort has Wi-Fi access in the restaurant.
The fully equipped dive center offers state-of-the-art diving equipment, ensuring your safety and comfort during your underwater explorations. Experienced dive guides and instructors are always on hand to assist you and share their knowledge of the local marine life.
As you plunge into the warm waters surrounding Raja Ampat, you'll discover a vibrant kaleidoscope of colors and a diverse ecosystem that is home to over 1,700 species of fish and 600 species of coral. The thriving coral gardens, dramatic drop-offs, and stunning underwater landscapes will leave you in awe. From encounters with majestic manta rays and gentle sea turtles to the mesmerizing dance of the pygmy seahorses, every dive in Raja Ampat is a unique and unforgettable encounter with marine wonders.
In addition to diving, the resort offers a range of activities for guests to enjoy, including snorkeling, kayaking, hiking, and bird watching. The on-site restaurant serves a variety of Indonesian and international cuisine, and there is also a bar where guests can relax and enjoy a refreshing drink after a day of activities.
Other Facilities:
Snorkeling
Kayaking
Spa
Birdwatching trips
Dedicated camera room
Package Example
Price starting from:
8D/7N Package, 6 days diving US$ 2,540 (per person, twin share)
Monday to Monday or Friday to Friday
Valid until Dec 31 2024
FREE Transfers are available every MONDAY and FRIDAY
Includes: Accommodation in Beachfront bungalow, fullboard meal plan, 12 dives total (2 boat dives per day), roundtrip transfer from Sorong airport to the harbour by A/C car and to the resort by speed boat on Friday & Monday, tax and service.
Not included: Rental equipment, marine tag, local entrance fee.