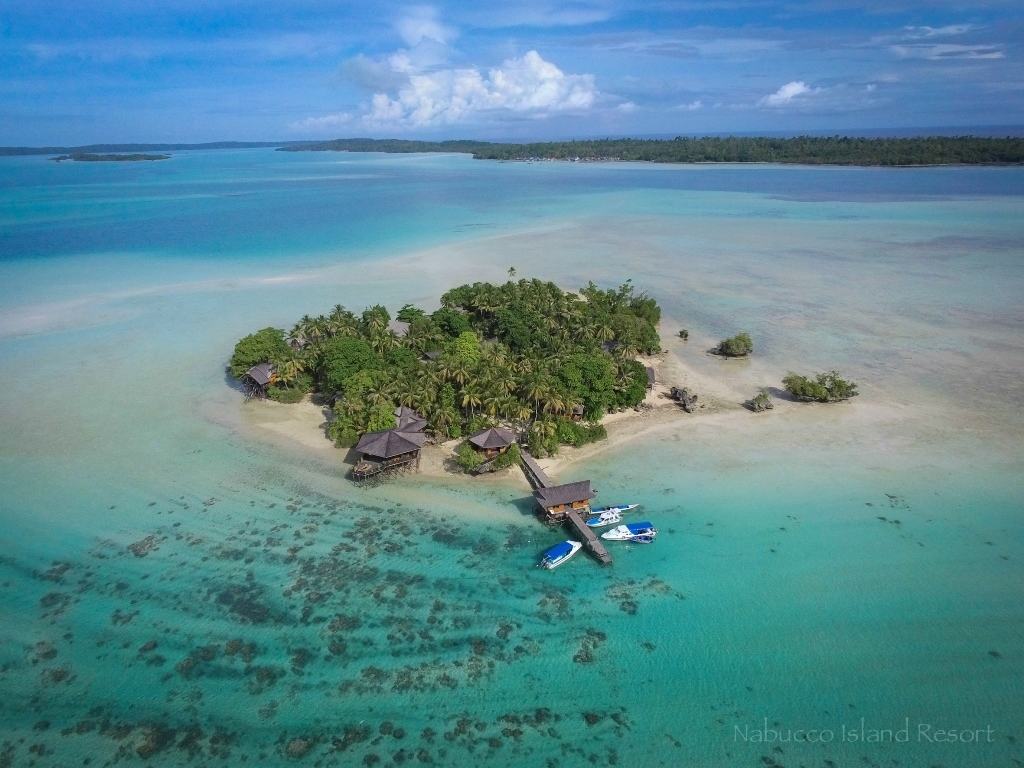 Beautifully situated off the east coast of Borneo, in the Sulawesi Sea of Indonesia, Nabucco Island Resort is located on a private island with a few little beaches to swim (during the high tide) and sunbathe. The exotic resort combines the magic of nature and a family atmosphere perfect for diving. The dive sites around Nabucco are captivating due to their biodiversity and the nutrient rich currents coming from the Pacific Ocean. Most dive sites consist of an intact reef roof and drop offs. The highlight is "the Channel", also known as "Big Fish Country". It is one of the best dive sites in Borneo, due to the strong currents, divers can see a startling array of pelagic fish.
During the construction of this little paradise, the natural vegetation was preserved so as not to disrupt the ecology. Perhaps this is why coconut crabs still call Nabucco their home, and why monitor lizards, king fishers, flying foxes and different kinds of small lizards, still inhabit the island.
Accommodations
The island resort offers eight double bungalows and one single bungalow in traditional Indonesian style. All bungalows have balcony, lazy chair, air conditioning or fan, hot & cold water shower, western toilet, minibar and a mosquito net. The resort has 24 hour electricity of 220V. Besides a great view from the terrace, most bungalows have direct access to the beach.
Dining
The airy and roomy restaurant is constructed on stilts directly over the sea. While enjoying delicious meals, your eyes can feast on fantastic views of Maratua Atoll. Breakfast and lunch are served "a la carte". In the evening, the starry sky over the Sulawesi Sea is the perfect ambience to enjoy the freshly prepared five-course dinner. Vegetarian dishes are available on request. The bar is situated on a small cliff overlooking the sea. It is equipped with a satellite TV and a DVD player to playback your highlights of the day.
Diving
The dive center is managed by professional team from Extra Divers. Well experienced guides will take care for unforgettable diving adventures. While the best spots are almost directly in front of the bungalows with swarms of eagle rays, tuna, turtles and many more, the experienced dive team will show you their knowledge of the other spots. Famous dive sites around the area include: Sangalakki where manta rays can be observed daily, Kakaban Island with unique non-stinging jellyfish, and Maratua to admire the flora and fauna of the very rare sweet water lakes are awaiting divers. Night dives at Nabucco Jetty are also easy and excellent to admire the nocturnal sea life.
Other Facilities
beach volleyball
library
chess
animal watching on the island
Indonesian cooking
massage
Package Example
Price starting from:
7D/6N Package, 5 days diving EUR 1,410 (per person, twin share)
Valid until 31 Dec. 2023
Includes: Accommodation in Seafront Bungalow, fullboard meals, 10 dives total, roundtrip boat and taxi airport transfers (Wednesday to Tuesday), tax and service.